Obi-Wan Finale - The Loop
Play Sound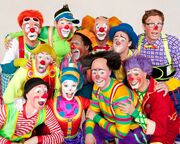 In similar vein, buffoon is a term for someone who provides amusement through inappropriate appearance and/or behavior.
Originally the term was used to describe a ridiculous but amusing person. The term is now frequently used in a derogatory sense to describe someone considered foolish, or someone displaying inappropriately vulgar, bumbling or ridiculous behavior that is a source of general amusement.
The term originates from the old Italian "buffare", meaning to puff out one's cheeks that also applies to bouffon.