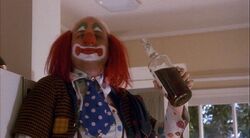 Shakes the Clown
is a 1992 American film directed and written by Bobcat Goldthwait, who performs the title role. It also features Julie Brown, Blake Clark, Paul Dooley, Kathy Griffin, Florence Henderson, Tom Kenny, Adam Sandler, Scott Herriott, LaWanda Page, Jack Gallagher, and a cameo by Robin Williams as Mime Jerry (using the pseudonym "Marty Fromage", an homage to an earlier film they worked in together called
Tapeheads
in which Goldthwait used the pseudonym "Jack Cheese").
The movie is a dark comedy about a birthday-party clown (Goldthwait) in the grip of depression and alcoholism, who is framed for murder. Different communities of clowns, mimes and other performers are depicted as clannish, rivalrous subcultures obsessed with precedence and status. This was Goldthwait's bitter satire of the dysfunctional standup comedy circuit he knew as a performer.
Cast
Bobcat Goldthwait as Shakes the Clown
Julie Brown as Judy
Blake Clark as Stenchy the Clown
Paul Dooley as Owen Cheese
Kathy Griffin as Lucy
Tom Kenny as Binky the Clown
Adam Sandler as Dink the Clown
Jack Gallagher as Officer Crony
Florence Henderson as The Unknown Woman
Scott Herriott as Floor Director
LaWanda Page as Female Clown Barfly
Robin Williams as Mime Jerry
Johnny Silver as Clown Tailor
Reception
Shakes the Clown was not a financial success, earning only about $115,000 in ticket sales against an estimated budget of $1.4 million.